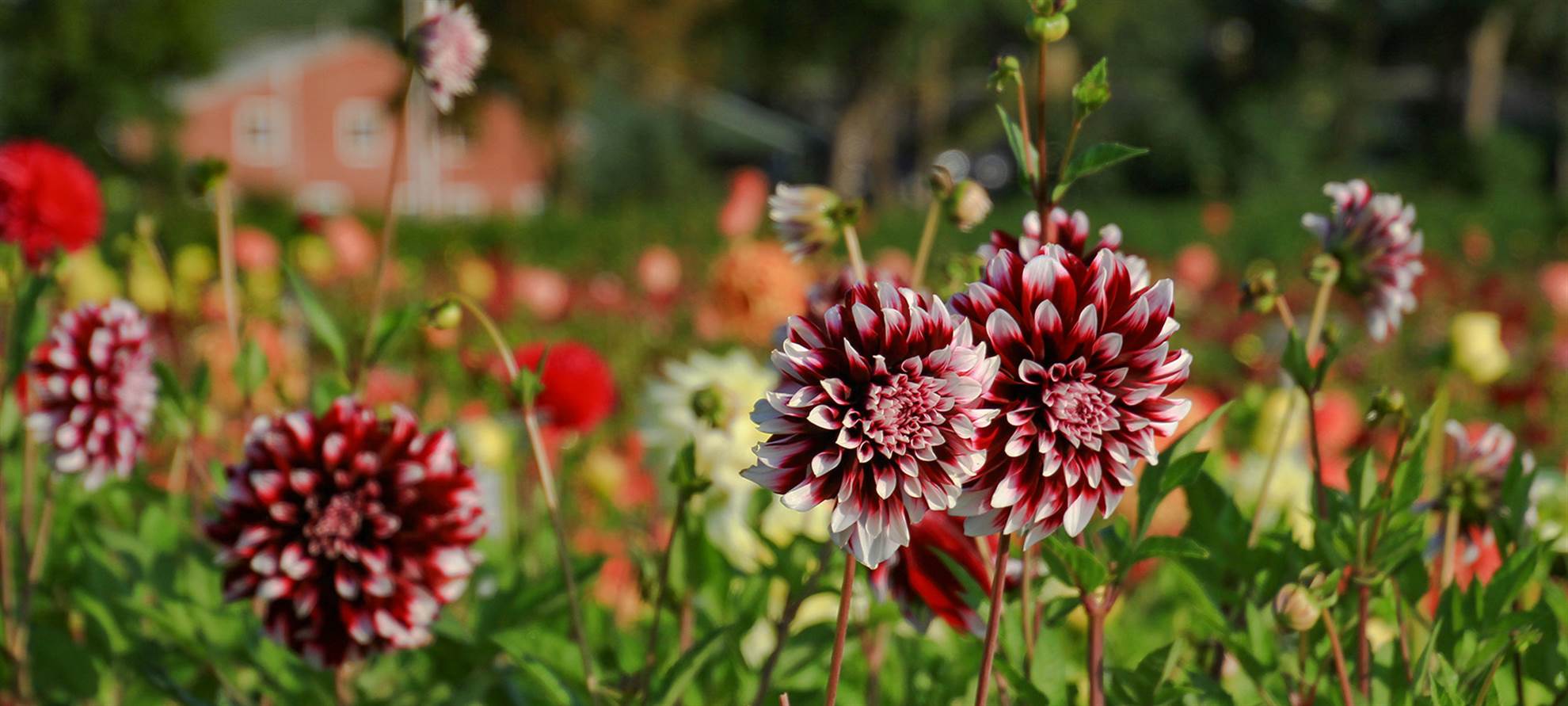 Bike tour with guide around Dahlia fields
To product
Bike tour with guide around Dahlia fields
The Bulb Region has a beautiful environment for cycling. With classic Dutch features such as windmills, flower fields and water! Various Dahlia fields will bloom from mid-August. We visit the blooming dahlia fields that you may not be able to find yourself. The diversity is overwhelming. Come along on this bicycle tour and experience the gorgeous vieuws of the blooming Dutch flowers in Lisse!
A guided tour along the colourful Dahlia bulb fields.
Cycling along the highlights of Lisse.
With a local English speaking guide.
Includes bike and helmet.
A private tour is available on request (please send an e-mail: info@ticketbar.eu).
What does this tour offer?
During the 2.5 hour tour we cycle along the expansive fields of Dahlia's. We not only ride along the Keukenhof Castle, but also along 't Huys Dever (a 14th century monument) and several museums and windmills. The experienced local guide will tell you about the history of Lisse and its highlights.
During the tour we will stop for about 20 – 25 minutes break at 'De Tulperij'. A unique location where you can enjoy a magnificent view over the Dahlia fields. You can enjoy a drink and buy delicious Dutch treats or souvenirs (own expense). There are restroom facilities at 'De Tulperij'.
Languages:
The tour is only given in English and Dutch.
Duration:
Duration bike tour including breaks 2.5 hours.
Approximately 16-18 kilometers.
Schedule:
Start time morning tour 10:00 AM.
Start time afternoon tour 1:30 PM.
Meeting point:
Start: Hotel-Restaurant De Engel, Heereweg 386, 2161DG Lisse.
At this location you can have breakfast, lunch, dinner or just a drink
Public Transport:
PLEASE NOTE: GET OUT AT BUS STOP "DE ENGEL".
From Amsterdam CS:

**Option 1: take the train to Sassenheim and then bus 50 direction Haarlem.

**Option 2: take the train to Schiphol Airport and then Arriva Qliner direction Noordwijk.
From Schiphol Airport bus Arriva Qliner 361 direction Noordwijk.
From Haarlem take bus 50 direction Leiden CS.
From Leiden take bus 50 direction Haarlem.
From Sassenheim take bus 50 direction Haarlem.
All buses stop in front of Hotel Restaurant De Engel / Tulipbicycletour.com.
There is plenty of free parking for Hotel Restaurant De Engel.
Important information:
Minimum number of participants is 2 people.
Rear child seats for children from 1 to 6 years old (9 – 22 kg) possible on request (€ 12.50 to be paid in cash on the spot).
Maximum number of participants is 14 (no children's bikes, children seats available on request for children 9-22 kilo's).
Up to six additional participants can bring their own bike.
We cannot be held responsible for the condition of the flower fields