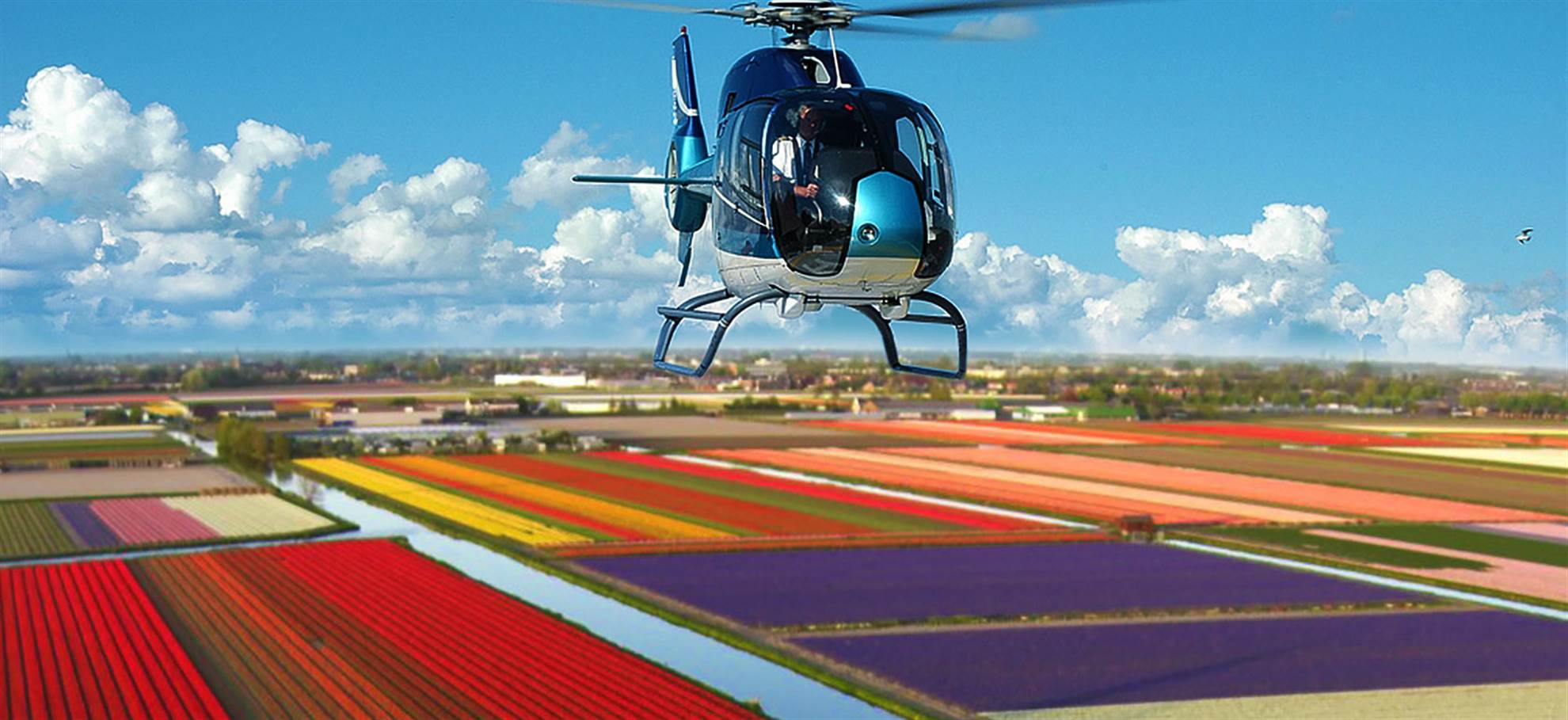 Keukenhof Helicopter Flight
To product
The Tulip Area ´Bollenstreek´ is yearly a beautiful sight. It attracts visitors all over the world to see so many colours in so many tulip fields. That is why the community of the Tulip Field Farms organises the Keukenhof yearly!
For many a visit to the Keukenhof and the tulipfields who are closeby is an absolute highlight. How amazing would it be to visit this all by Helicopter! So many flowers, so many colours and all gathered in a typical Dutch setting!

During the opening of the Keukenhof season Helicopters departure each Saturday. It will fly over the Tulipfield area so you always have a great view over the region. As a bird you will stretch out and visit the fields from a total different perspective. Only from above the sky you will understand why our flowers are exported all over the world!


Includes:
- a place at the EC120 Helicopter
- You can also book a private tour (please note, that maximum capacity of one helicopter is 4 person)
- View on the Tulipfields, Keukenhof and North Sea
- Departure point Lisse or Noordwijk


When you don´t have transportation to the Keukenhof


The farm fields where the Helicopter depart from can only be accessed by car. So if you don´t have a car during your stay in Holland or when you don´t want to book a taxi you can also book the Helicopter Flight with the tour Keukenhof Helicopter Experience with transportation.
Departure location
The Helicopter Flights departure from different locations. You will receive the exact location one week in advance from the pilot by email. This will be from a tulipfield farm in Lisse or Noordwijk.
Departure time:
Between 10:00 and 12:00 or between 14:00 and 16:00


How does it work?
1) Select the date you want to fly
2) You will get an email from the pilot with the exact departure location
3) Select the duration of your flight
4) Complete the reservation
5) You will receive a ticket which you can hand-over to the pilot


What is important to know?
Under no circumstance it is possible to cancel your booking. The reservation is non-refundable. The company who organises the Helicopter Tour holds a seat for you available and therefore the investments that are done in renting the Helicopters makes sure it is not possible to cancel. Please be there on time for the Helicopter Flight!